Tag: savasplace.com
You are browsing all the posts tagged with savasplace.com.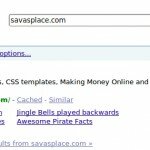 Finally 😀 . If you don't believe search for savasplace on google.
Looks like the site is operational again but I know that a lot of links are broken. I hope I'll fix them as soon as possible. At the moment the downloads are not working, the contact form is not online and many others. I know I have a lot of work to do … please […]
The website will be paused as I will use WordPress from now on. I am currently importing this database into the wordpress database. Hope I will finish as quickly as possible and that everything turns out ok. Until then … see ya and wish me luck :D.

Features very easy to install and use captcha to prevent spam protection very easy to style and integrate into your existing website Preview | Download (2.98KB) ( 3758 downloads )
I just looked now in my Google Webmasters account to view some details about my website and it struck me.My first post about making money online [ Recommended Money Makers ] and I am ranked number 3 from 385.000 results on google. Hehe … I am better ranked than all those online marketers out there […]
After some time I have a new script for you and a new template.The script was made for a friend who wanted to switch between 2 different CSS styles on his website to make the text smaller or bigger.I called it CSS Simple Switcher.You can see a preview of the script or you can just […]
As you can see I've added a newsletter for Sava's Place and I also sent 1 just now.I will email all my users and subscribed users about everything I find on the internet and it's worth mentioning. So if you think you could use some of the shares I have for you you can either […]
As you can see I am showing public service ads because I have to enter my pin in my Google Adsense account. Don't know why … because I didn't reach the payout limit of 100 $ yet … but I am not far 😀 Hope that envelope arrives quick 😀
I recently bought Sava.name and Sava.ws What do you think of these domain names ?
I just saw this now. My hosting package was upgraded today. TFCPH.com is the best hosting I've seen yet.My 2GB of bandwith turned into 5 GB. Let's hope it will be enough 😀 If you want a good free web host … you should try TFCPH.com .