Hardware
You are now browsing the posts filled under Hardware.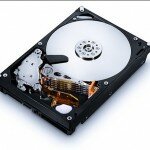 SSDs might be catching up to the trusty HDD in capacity, but this first-of-its-kind, 2-terabyte, 7200 RPM drive from Hitachi serves as a reminder that for speedy mass storage people can still afford, the old standby still remains king. The Hitachi Deskstar 7K2000, is a 3.5-inch drive that fits inside any compatible computer or enclosure. […]

Highly sensitive details of a US military missile air defence system were found on a second-hand hard drive bought on eBay. The test launch procedures were found on a hard disk for the THAAD (Terminal High Altitude Area Defence) ground to air missile defence system, used to shoot down Scud missiles in Iraq. The disk […]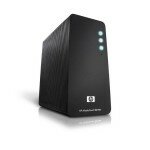 Yearning for more info on the HP MediaSmart LX195? Here's some new concrete details for you to go along with the leaked images below. As previously suggested, it's got a a single 640GB internal SATA drive with 7200RPM, with the only option for expansion being via the four USB 2.0 ports in the back. We're […]

Are you serious about backing up and protecting your company's data? I mean really, really serious? Because if you are, you'll want to take a look at Axxana's Phoenix System which includes this nearly indestructible Black Box solid-state disk array. It's designed to sit on-site and in the event of a worst-case-scenario it's built to […]

Acer announced the first Ion-based nettop AspireRevo earlier this month, and now Zotac offers two models of Atom-based Mini-ITX motherboard for this sweet stuff according to PCWatch. The IONITX-A-U and IONITX-B-E come with Atom N330 Dual Core and Atom N230 Single Core processor respectively, and they both feature MCP79 chipset and built-in GeForce 9400 graphics […]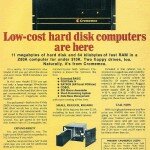 11 MB for about $10.000 . What a bargain :O or $9239 for 18 MB. These 2 ads below look really funny now but it wasn't cheap to have your personal computer at that time.
After being on the tip of gamers' tongues last summer, NVIDIA's PhysX technology has cooled a bit in terms of sheer popularity. That said, we've no doubt that the buzz will be back in force after this one clears the airwaves. NVIDIA has just announced that it has nailed down a tools and middleware license […]
This has to be the craziest PC we have seen here at geeky gadgets, built by the guys at Puget Systems in cost a massive $16,000 to build. So what exactly does spending $16,000 on a custom PC get you? This crazy PC features four quad core Opteron processors, 32GB of RAM and 8 hard […]
Western Digital's new 8TB ShareSpace is a monster of a storage system for you media hoarders who want to share your good between multiple computers. The new 8TB model is available as of this week for $1,700, which is a lot of money for a networked storage device until you do the math: 12 cents […]
Here's a good reason to start saving for next fall's Black Friday: HD Guru says Honeywell will sell an 82inch 1080p LCD in the US this year. Honeywell – better known for top secret government contracts – is really just licensing its all-American name to the Taiwan-based Soyo, who will be producing the 300-pound monster […]