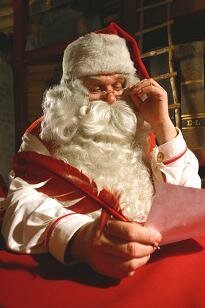 1) We have not yet found a flying species of reindeer. 300 000 species are still under research (most of them insects). It is not completely impossible that Santa's flying reindeer exist.
2) There are about 2 billion children in the world (under the age of 18), but because Santa's territory doesn't consist Muslims, Hindus, Jewish or Buddhist children, Santa Claus has to visit only 15 % of the worlds children (378 million). Because each household has approximately 3.5 children,
Santa has got 108 million houses to visit (Presuming that there is at least one good child in each house).
3) Santa Claus has 31 hours time to work, considering different time zones and the rotation of earth,
presuming that he travels logically from east to west. After a quick calculation we notice that Santa has
9677 visits per second. This means that every house Santa Claus has 1/1000 seconds to park his sleigh,
get in the house, deliver gifts, run back to his sleigh, and drive to the next house. Considering that these 108 million stops are around the world, and the distance between two houses is about 1.3 kilometers, the total distance is about 140 million km. This means that Santa's sleigh moves with the speed of 1040 km per second, with 12 500 times the sound velocity. For comparison, the normal reindeer moves with a speed of 25 km per hour.
4) The weight of the sleigh is another interesting subject to think of. Presuming that every child gets only a normal sized gift (500g), the sleigh will weight 189000000 kg, counting out Santa himself, who is always described very overweight. On land a normal reindeer can pull at most 140 kg. Even if we presume, that a flying reindeer (look at section 1) could pull ten times the amount compared to normal, pulling the sleigh can't be done with eight, not even with nine reindeer. We need 135000 reindeer. This gets the mass, not adding the weight of the sleigh, to 210000000 kg.
5) When 210000000 kg travels 1040 km/sec, it develops a great air resistance. This makes the reindeer to heat up like the wing plates of a shuttle returning to the atmosphere. The first pair of reindeer spends 14.3 quantimillion joule/second/reindeer. In a short time the first couple of reindeer bursts into flames, causing a chain reaction, which results to the explosion of all reindeer. The whole herd vaporizes in 1/4260 seconds. At the same time Santa encounters a force 17 500 times of gravity. 120 kg weight Santa Claus is pressed to the back of the sleigh at the force of 1 959 016 kg. In our research we came to a conclusion, that if Santa did deliver gifts last Christmas – he's now dead.
The other option is that Santa Claus is a big scam (which is highly unlikely, because there are so much people
who can testify seeing Santa Claus every year regularly). We continue with the research.