Tag: Hardware
You are browsing all the posts tagged with Hardware.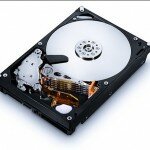 SSDs might be catching up to the trusty HDD in capacity, but this first-of-its-kind, 2-terabyte, 7200 RPM drive from Hitachi serves as a reminder that for speedy mass storage people can still afford, the old standby still remains king. The Hitachi Deskstar 7K2000, is a 3.5-inch drive that fits inside any compatible computer or enclosure. […]

Highly sensitive details of a US military missile air defence system were found on a second-hand hard drive bought on eBay. The test launch procedures were found on a hard disk for the THAAD (Terminal High Altitude Area Defence) ground to air missile defence system, used to shoot down Scud missiles in Iraq. The disk […]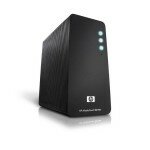 Yearning for more info on the HP MediaSmart LX195? Here's some new concrete details for you to go along with the leaked images below. As previously suggested, it's got a a single 640GB internal SATA drive with 7200RPM, with the only option for expansion being via the four USB 2.0 ports in the back. We're […]

Acer announced the first Ion-based nettop AspireRevo earlier this month, and now Zotac offers two models of Atom-based Mini-ITX motherboard for this sweet stuff according to PCWatch. The IONITX-A-U and IONITX-B-E come with Atom N330 Dual Core and Atom N230 Single Core processor respectively, and they both feature MCP79 chipset and built-in GeForce 9400 graphics […]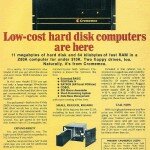 11 MB for about $10.000 . What a bargain :O or $9239 for 18 MB. These 2 ads below look really funny now but it wasn't cheap to have your personal computer at that time.
After being on the tip of gamers' tongues last summer, NVIDIA's PhysX technology has cooled a bit in terms of sheer popularity. That said, we've no doubt that the buzz will be back in force after this one clears the airwaves. NVIDIA has just announced that it has nailed down a tools and middleware license […]
Elecom's MicroSD USB reader takes advantage of the storage format's miniature size to ensure that the only thing poking out of your computer is a colorful and stylish little nub. The MR-SMC03 is so small that it kind of looks more like a USB hole stopper than a media reader. To use it, you slip […]
Here's a good reason to start saving for next fall's Black Friday: HD Guru says Honeywell will sell an 82inch 1080p LCD in the US this year. Honeywell – better known for top secret government contracts – is really just licensing its all-American name to the Taiwan-based Soyo, who will be producing the 300-pound monster […]
Even though 8x media is still hard if not impossible to come by here in the States, Lacie's new d2 external burner will be ready for it when it's here. It's $450, available now. Burn Blu-ray discs up to 8x Store up to 50GB of videos, files and other data on one disc Multi-format BD […]
Imagine that your monitor can be adjusted to fit different aspect ratios ? As a bonus you will have a small projector to display small images and icons (you need to pay attention to) on the desk. Yeah, you have 5 new emails. To bad it's just a concept. Thanks [ petitinvention ]