Archive for April 2011
Here are all the posts written in 2011 April.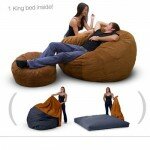 If you like sleepovers then you'll surely need CordaRoy's Beanbag Beds – beanbag chairs that convert into a spare bed. They're great for reading and relaxing and when a friend visits and wants to spend the night you'll have an extra bed. They're available in sizes up to double King.