There's a lot you can do with Google if you can take advantage of it's advanced search features.
Expanding on this tip which shows you how to find music in open directories, here's a step-by-step walkthrough on how to use Firefox Smart Keyword searches to speed up the process.
All you need to do is: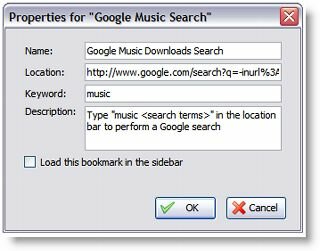 Create a bookmark in Firefox
Use the URLs in this text file as the bookmark location in your Firefox bookmarks (like in the pic above)
Assign a keyword to it – eg. music
Type the keyword (eg. music) followed by the search term (eg. beatles) directly into the address bar (NOT the search box). For example… type in music beatles , and Google will search open directories for Beatles music files that you can download.


You can modify the code  in the text file to change file extensions, which opens a whole window for you. For example, you can even change it to PDF and DOC to look to e-books, or AVI and MPG to look for movies.
By the way, I'm assuming you already own the media you will be downloading … 😀