Ghosts are controversial phenomena which have several possible definitions:
The spirit or soul of a person who has died, especially one which haunts a place which was of emotional significance to that person when living.
The personality of a person after his or her own death which is not directly tied to the soul or spirit. A sort of psychic memory-imprint.
The character or memory of some being or thing which has died or, if it was never alive, been somehow destroyed or disassembled, which nevertheless remains existent (and sometimes detectable) in a semi-corporeal form.
Contents of page
Introduction
Types of distress caused by ghosts
Skeptical analysis
Notable ghosts
Introduction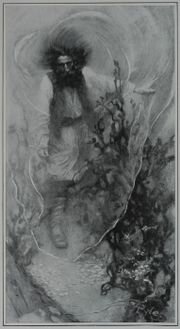 According to reported sightings, ghosts have taken the shape of humans, animals, and even vehicles. There are reports of ghosts (usually of deceased humans) in most cultures throughout the world. There is a great deal of dispute whether ghosts are figments of the imagination or part of objective existence. Ghosts are among the subjects studied by parapsychologists.
Very detailed information about ghosts is given in Garuda Purana, a scripture from Vedic (Hindu) tradition. According to this Purana, humans who perform sins during their lifetime will be reborn as ghosts. This is an excerpt from the conversation between a Brahmana(a noble man) and a group of ghosts as mentioned in Garuda Purana.
The brahmana said:'You have told us facts about your names; now let us know about your way of life as ghosts as well as your food.'[citation needed] The ghosts said:'We stay where people do not follow the Vedas, where there is no feeling of shame for falsehood, no faith in religion, no sense of discipline, no inclination for forgiveness, no patience and no knowledge. We trouble the person who does not perform Sraddha or Tarpana. We eat his flesh and suck his blood. Now hear about our food which is most despicable in the world. Something of this you have already seen. We shall now tell you something unknown to you. Vomiting, waste, cough, urine and tears – these we eat and drink. Do not ask us further, O brahmana, we are ashamed to tell you about our food. We are ignorant, in dark, fools and puzzled. Suddenly have we remembered about our previous births. We are neither humble, nor wild and we know nothing.' How ghosts fit into this worldview is shown here. Buddhist Samsara includes the concept of the hungry ghost realm. Sentient beings in that realm are referred to as "hungry ghosts" because of their attachment to this world. Asuras are also referred to as "fighting ghosts".
go up
Types of distress caused by ghosts
Many cultures believe that ghosts may trouble humans in various ways, such as possession, influence upon thoughts or emotions, nightmares, voices, cold spots, and various sicknesses. They may give a feeling of being watched or fear.
Being affected by ghosts is when the physical, mental, intellectual or spiritual functioning of a person or any combination thereof is affected or altered by the ghosts entirely through the use of their energy. There is no direct intervention by the ghosts and there is no controlling of the mind and intellect of the affected person. Ghosts with their energy can either stimulate or cloud the faculties of the affected person. In a way, this is indirect control over the person.
Spiritual possession is when ghosts control the mind (emotions, thoughts) and intellect (decision making ability) of a person. As a result, they also control the person's actions. The ghosts possessing a person may reside inside the body of the affected person or control him/her from outside
Skeptical analysis
While some accept ghosts as a reality, many others are skeptical of the existence of ghosts. Much of the scientific community believes that ghosts, as well as other supernatural and paranormal entities, do not exist. The current tentative consensus among parapsychologists is that ghosts are not the spirits of deceased humans, but psychic imprints which have been left behind, often because of especially strong emotions in the persons who leave the ghost. Skeptics often explain ghost sightings with the principle of Occam's razor, which argues that explanations should maximize parsimony with the rest of our knowledge, thus making the simplest and most mundane explanation the one which is best. They may suggest that, since few to none of us have ever had an encounter with a ghost, but most or all of us have had an experience of self-delusion or have attributed a false cause to an event, that these options should be preferred in the absence of a great abundance of evidence for supernatural explanations.[citation needed] Skeptics are also keen to note that most ghost sightings happen when our senses are impaired, and that the evidence is unreliable because it doesn't occur when we have full use of our faculties. (It however bears noting that, conversely, spiritualists or theists such as demonologists and other occultists invoking the principle of Occam's razor will come to differing if not opposite conclusions, since, to them, "the rest of our knowledge" provides us with unfathomably vast amounts of positive data regarding the supernatural; ideas like "parsimony" are, by nature, entirely context-dependent.)Human physiology may play a role in ghost sightings:
Ghosts are often associated with a chilling sensation, but a natural animal response to fear is hair raising, which can be mistaken for chill.
Peripheral vision is very sensitive to motion, but does not contain much colour or the ability to sharply distinguish shapes. Any random motion outside the focused view can create a strong illusion of an eerie figure.
Sound waves with frequencies lower than 20 hertz are called infrasound and are normally inaudible, but British scientists Richard Lord and Richard Wiseman have concluded that infrasound can cause humans to feel a "presence" in the room, or unexplained feelings of anxiety or dread.
Sometimes ghosts are associated with electromagnetic disturbances, which suggests that they might be attributable to the electromagnetic field and not to a presently dead person. Often, videos of paranormal investigators will show them using E-field or B-field detectors and finding "ghostly" results near wall outlets and electrical appliances.
Chinese philosopher, Mo Tzu (470-391 BC) says:

"Since we must understand whether ghosts and spirits exist or not, how can we find out? Mo Tzu said: The way to find out whether anything exists or not is to depend on the testimony of the ears and eyes of the multitude. If some have heard it or some have seen it then we have to say it exists. If no one has heard it and no one has seen it then we have to say it does not exist. So, then, why not go to some village or some district and inquire? If from antiquity to the present, and since the beginning of man, there are men who have seen the bodies of ghosts and spirits and heard their voices, how can we say that they do not exist? If none have heard them and none have seen them, then how can we say they do? But those who deny the existence of the spirits say: "Many in the world have heard and seen something of ghosts and spirits. Since they vary in testimony, who are to be accepted as really having heard and seen them? Mo Tzu said: As we are to rely on what many have jointly seen and what many have jointly heard, the case of Tu Po is to be accepted. (note: King Hsuan (827-783 BC) executed his minister, Tu Po, on false charges even after being warned that Tu Po's ghost would seek revenge. Three years later, according to historical chronicles, Tu's ghost shot and killed Hsuan with a bow and arrow before an assembly of feudal lords)" — Taken from Chapter 31, translated by Yi-pao Mei
Notable ghosts
Ghost stories date back to pre-christian times.[3] One of the earliest known ghost "sightings" took place in Athens, Greece. Pliny the Younger (c. 63 – 113 AD) described it in a letter to Sura: Athenodoros Cananites (c. 74 BC – 7 AD), a Stoic philosopher, decided to rent a large, Athenian house, to investigate widespread rumours that it was haunted. Athenodoros staked out at the house that night, and, sure enough, a dishevelled, aged spectre, bound at feet and hands with rattling chains, eventually "appeared". The spirit then beckoned for Athenodoros to follow him; Athenodoros complied, but the ghost soon vanished. The philosopher marked the spot where the old man had disappeared, and, on the next day, advised the magistrates to dig there. The man's shackled bones were reportedly uncovered when this was done. After a proper burial, the hauntings ceased.
The cities of York and Derby in England are also reputed to be a centre of ghostly manifestations; consequently, they both thrive on hugely successful ghost tour industries. Indeed, the presence of many centuries-old buildings has given England the reputation of the most haunted country in the world. Whether this is due to the age of the buildings, or the fact that many are still inhabited is questionable.

The Brown Lady of Raynham Hall has been "seen" quite a few times over the years. She is called the 'Brown Lady' because of the brown brocade dress that the ghost has often been seen wearing while wandering the halls and staircase of Raynham Hall. In 1849 Major Loftus and a friend named Hawkins saw the ghost one night after retiring to bed. They both saw the woman and were amazed by the old fashioned clothing that she wore. The following night the Major was lucky enough to see the figure once again, this time he took note of her empty eye-sockets. The incident resulted in several members of staff resigning and a full investigation of Raynham Hall involving local detectives.

The White House in Washington, D.C., is said to be haunted by the ghost of Abraham Lincoln and by several lesser spectres.[citation needed] The ghost of the Roman Emperor Caligula was said to haunt the Lamian Gardens of Rome, where his body had been hastily and unceremoniously buried after his assassination.
In the Biblical account of the Witch of Endor, King Saul of Israel has the witch conjure up the ghost of the prophet Samuel to consult with him on his precarious situation. The prophet's spirit gives the king no assistance, but rebukes him and foretells his doom instead.

The former prison island of Alcatraz off the coast of San Francisco is said to be home to a number of ghosts of prisoners who died there.[citation needed]Athens, Ohio is named one of the most haunted places in America, and is reputed to contain many ghosts. One oft-made claim is that, when drawing a line from each of the 5 (or, in some versions, 10) graveyards, one creates a pentagram; this claim is false. Ohio University is also considered by some to be the most haunted campus in America, as it is the former state hospital, Athens State Mental Hospital.
The city of New Orleans is sometimes called 'America's most haunted city' with numerous ghost reports, especially in the French Quarter. New Orleans' ghosts include pirates from the 18th century, through to 20th century spectres. Charleston, South Carolina, which has more than three centuries of recorded history under its streets, is said to be home to ghosts of 18th century pirates and Revolutionary War heroes, a well as many black slave ghosts, and a number of ghosts of soldiers from the American Civil War. The Museum of Natural Science in Ottawa, Ontario, Canada is said to be haunted by the ghost of the Canadian Prime Minister Sir Wilfrid Laurier, whose body lay there in state after his death in 1919. Many workers in the museum have noted the presence of a spirit after the museum has closed for the day.
The Kuchisake-onna was said to have caused mass hysteria throughout Japan during the spring and summer of 1979. Hollywood, California has been home to many of the great stars and there are those who believe that their ghosts remain there after death, earning it the name Haunted Hollywood. Muncaster Castle in northern England is supposedly haunted by serial murderer Tom Fool, subject of the Shakespearean word "Tomfoolery".