An optical illusion is characterized by visually perceived images that, at least in common sense terms, are deceptive or misleading. Therefore, the information gathered by the eye is processed by the brain to give, on the face of it, a percept that does not tally with a physical measurement of the stimulus source. A conventional assumption is that there are physiological illusions that occur naturally and cognitive illusions that can be demonstrated by specific visual tricks that say something more basic about how human perceptual systems work.
Examples of illusions:
Focus on the center mark and see what happens

The Scintillating grid illusion or Hermann grid illusion. Dark spots seem to appear and disappear very quickly at the intersections


An optical illusion. Square A is exactly the same shade of grey as square B.
 
Magic tap, which appears to float in the sky with an endless supply of water. In actuality, there is a pipe hidden in the stream of water.
 
Simultaneous Contrast Illusion. The grey bar is the same shade throughout
 
An optical illusion. The two circles seem to move when the viewer's head is moving forwards and backwards while looking at the black dot.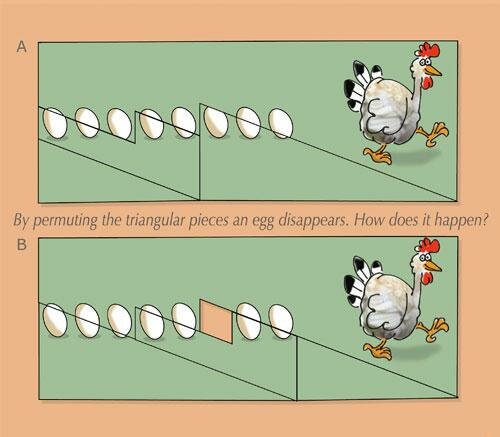 Who stole the egg from our chicken? As you can see on the 4-piece puzzle in A, there are 8 eggs… Now if we permute the triangular pieces an egg disappears along with portion of the puzzle (see B)!