GShutdown is a tool for Ubuntu which performs and schedules system shutdown, logout and restart. To install it open up a terminal and run the following command:
sudo apt-get install gshutdown
After installation you can find GShutdown under Applications -> Accessories.
And here it is: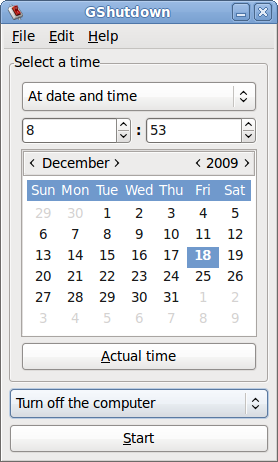 As you can see it's really simple to use. Just enter the time you want and choose Shutdown, Reboot or End current session.
The application is really great if you're that kind of person that likes watching a movie or listening to music before they go to sleep. And just in case you're not asleep GShutdown can also notify you before it takes action and shutdowns your computer.

I guess it's a really useful application. Have you tried it yet ? Are you going to try it ?