This is a Sponsored Post written by me on behalf of 123 Media Max. All opinions are 100% mine.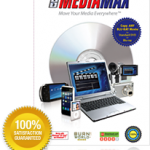 We all know photos are obsolete. Since YouTube movies gained a lot of attention from bloggers, webmasters and ordinary computer users. And what's nice is that since June 2006 Blu-Ray disks appeared. Blu-Ray's main uses are for storing high-definition video, PlayStation 3 video games, and other data, with up to 50 GB per single layered, and 100 GB per dual layered discs while having the same physical dimensions as standard DVDs and CDs.
Handling this amount of data takes a lot of time and not everybody has a Blu-ray burner. Let's say you want to go to a girl next door and watch a movie with her. She doesn't have Blu-Ray. You can easily create backup copies of any Blu-ray movie to standard DVD RW with amazing HD quality with the help of 123 Media Max.
With 123 Media Max you can also convert CD tracks and audio files to MP3 ( to use on your Sony PSP or PS3, Apple iPod or iPhone, PDA etc. ), copy DVD's to your hard Disk or another DVD, convert DVD's, video files and YouTube downloaded movies, create DVD's from your own movies ( from your cellphone, camera etc.) and of course copy and convert Blu-Ray movies.
You can see all it's features ( which truly are a lot ) by visiting Blu-Ray Copy Breakthrough.
There's a free trial so you can work with it for a while. You'll surely love it and buy it for only $69.99.