Tag: free link manager
You are browsing all the posts tagged with free link manager.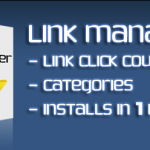 Features Easy to use admin panel (edit/delete/add links) Cool display – can be integrated into any website Link counter – displays how many times a link was clicked Users are able to submit links themselves, but are shown only after admin approval Shows a links description also if you enter one so your visitors know […]
Yesterday I received a request to add some new features to the Links Manager and I did.You can view the new features, look at a demo or download it from the scripts page. Hope you like it.